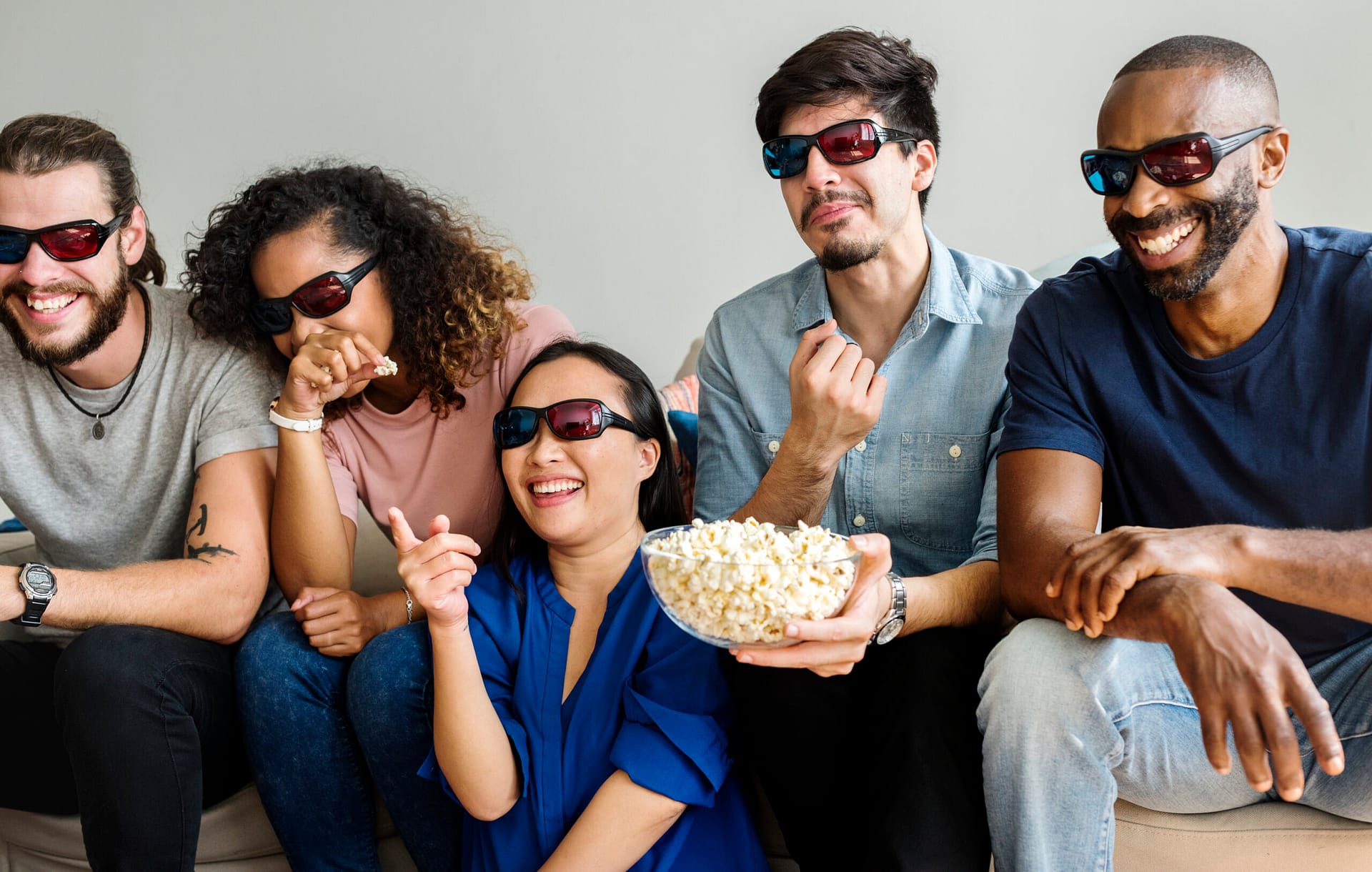 Exclusive Media .net is excited to present our movie section, featuring up-and-coming independent filmmakers and their films. Our selection includes thought-provoking documentaries, gripping dramas, and innovative experimental films that challenge traditional storytelling methods. We strive to showcase diverse and underrepresented voices in the film industry, bringing attention to emerging talent and fresh perspectives. Our curated collection offers something for everyone, from fans of indie cinema to those seeking a unique cinematic experience. Explore the next generation of filmmakers and discover the future of cinema with Exclusive Media .net.


tag:www.rogerebert.com,2005:/feed

2023-06-01T09:09:33-05:00

tag:www.rogerebert.com,2005:BlogPost/646b9a1b306fcc75bf614589
2023-06-01T09:09:33-05:00 2023-06-01T09:10:02-05:00


The Editors


<![CDATA[
This special Cannes 2023 edition Thumbnails, our roundup of brief excerpts from notable articles, spotlights our coverage of the festival from past years, with the exception of the first article, which is newly published below. For the rest of the articles, we provide links to the original sources for you to read in their entirety.—Chaz Ebert
1.
"My Roger Ebert Story": Michael Bremer, Director of Student Programs at the American Pavilion, shares his story about how Roger saved him from blindness at the Cannes Film Festival. The article is reprinted below in its entirety.
When a star's light is extinguished, those left behind pay tribute by recounting tales of how our lives were touched by the departed, about those times we were sprinkled by their stardust. Recently, at an industry event hosted by Deadline, I found myself in a conversation with one of my favorite directors, Ron Howard. Ron was promoting his most recent film, the flawlessly made and emotionally powerful "Thirteen Lives." Since my work takes me annually to the Cannes Film Festival, it wasn't long before we were discussing the merits of that particular festival, and what Mr. Howard's own experience was with some of his films that premiered there: "Backdraft," "Tucker," "Solo: A Star Wars Story," to name a few.
Despite Mr. Howard's off-handed remark that Cannes audiences haven't necessarily embraced his films warmly, his enthusiasm for his craft was palpable and contagious. Of his most recent film, a true story of the international collaboration that rescued twelve Thai boys and their soccer coach trapped miles deep in a cave, Mr. Howard earnestly remarked, "People can be pretty darn wonderful when they want to be." It's that humanity that brought back – for me – a Cannes memory that involved another star, a wonderful man who saved my eyesight at the premiere of a different Ron Howard film.
The year was 1992, and I was once again in Cannes working as an acquisitions agent for film buyers overseas. The distributor we represented in Japan was a leader in that market, so I was regularly invited to events by people wanting to be in business with our Japanese client. This particular year, Ron Howard's film "Far and Away," starring Tom Cruise and his then-wife Nicole Kidman, had its world premiere at Cannes, and I was invited to its after-party at the posh Hotel Du Cap.
Sitting stunningly on the Cap d' Antibes promontory seven miles east of Cannes, the Hotel du Cap was where the ultra rich and famous stayed. At the time, it was said that the hotel accepted cash only, with rooms starting at $2000 a night. The "Far and Away" bash was held at the hotel's Eden Roc Restaurant, perched on an outcropping at the edge of the property, with a magnificent terrace that overlooked the sparkling Mediterranean. Inside the Eden Roc, I found myself in a conversation with Whoopi Goldberg about her historic Oscar win for "Ghost" just a few years earlier. Although I comported myself professionally, I was young, admittedly starstruck, and couldn't believe what good fortune had brought me to this moment. In those days, I freely expressed my own enthusiasm for the art of moviemaking, cultivated, no doubt, by the hours and hours of "At the Movies with Siskel and Ebert" that I watched as a teenager.
It was during this inconsequential chat with Ms. Goldberg that someone approached us to say that we should make our way to the terrace, as the fireworks show was about to begin. We stepped outside, and although it was night, the view was still breathtaking. The moon shone brightly above, its light shimmering on the peaceful sea. Nestled in the rocks below the terrace, the hotel's pool whispered the names of all the famous people that swam there... which that year I believe included Madonna, Sylvester Stallone, and Japanese master Akira Kurosawa.
Just a few hundred feet away, two men in a small motorboat headed back to shore from a barge they'd loaded with fireworks. And then they started. Stunning explosions of color punctured the night sky, casting swirls of yellow, purple, green and more on the water. Things were simpler, then. There were no massive speakers blearing music, and I doubt whether the pyrotechnics were even computer-controlled as they are today. It was just a simple, gorgeous, private fireworks display for a small group of people privileged to have found themselves at Ron Howard's premiere. I looked around me, soaking it all in. I'm guessing there were about 100- 150 of us on the terrace, looking up, all smiling and enraptured, the fireworks reflecting in everyone's eyes.
As I turned my gaze upward again, I couldn't help but marvel at how intimate this experience was. I'd never before seen fireworks almost directly overhead ... the barge was that close to shore. And then it happened... Just as I was thinking "these fireworks sure seem closer than they should be," I saw one lone red ember drifting toward the terrace. And while the crowd continued to ooh and ahh, I stood frozen as that lone ember landed with utmost precision in my right eye. I didn't wear glasses at the time, so of course I shrieked at the shock of the heat on my eyeball. To my immediate right, a gentleman sprang into action. He turned behind us to where a busboy stood with a tray of water glasses, and used his hand to furiously scoop water from a glass into my eye. I don't recall what effect, if any, this unfortunate "right place at the wrong time" moment had on other guests around me, but do recall taking a seat just inside the restaurant from the terrace while this kind man tended to me, asking if I was okay.
I was. After a fleeting thought that I'd lose sight in that eye, I realized I could still see, and the momentary burn sensation was gone. When I could focus, I saw that the man who sprang into action was none other than Roger Ebert. "Are you okay? Can you see?", he continued asking, until I assured him I was and I could, and we eventually made our way back to the terrace to watch the end of the fireworks.
I didn't meet Ron Howard at the "Far and Away" party, but recounting that story to him at the "Thirteen Lives" event enforced that, indeed, "people can be pretty darn wonderful when they want to be." That night, the real star for me was Roger Ebert, a critic I watched with wide-eyed respect as a teen, one half of the team who brought "two thumbs up" into our film review lexicon. Many years later, upon Mr. Ebert's passing, The American Pavilion at the Cannes Film Festival decided to name their Conference Center after Roger Ebert. A panel of esteemed critics from around the country assembled to talk about Roger's legacy, and how he democratized film criticism for the masses. Afterward, steps away from the newly unveiled Roger Ebert Conference Center, everyone present assembled on the beach for a "500 thumbs up" salute to Mr. Ebert, thumbs raised to the same sky from which that ember had fallen into my eye.
It was at that photo-op that I met Mr. Ebert's lovely life partner and widow, Chaz. Perhaps still a bit awestruck to speak to the wife of the man who saved my vision some 21 years earlier, I said to her, "I'm sure everyone comes to you with their Roger Ebert story. Can I tell you mine?" "Sure," she graciously replied. I'd barely said anything – "Hotel du Cap, 'Far and Away,' fireworks, eye, water, flush" – when she touched my arm: "That was you?? I was standing right next to him! Are you okay?"
Yes, I am. Through Chaz, I thanked Roger again for his quick reaction. I thanked Chaz for continuing Roger's legacy of kindness and humanity, and for her graciousness while still grieving the devastating loss of the world's greatest film critic. I'm honored to have been brushed by his stardust. And thank you, Ron Howard, for setting the stage for this indelibly seared moment in my memory. People can be pretty darn wonderful when they want to be.
2.
"The festival comes into focus": This classic dispatch penned by Roger Ebert at Cannes 1980 contains indelible stories about his pal Billy "Silver Dollar" Baxter.
"What Baxter has also figured out is that everyone at Cannes is a pirate and a cynic, and that the way to survive here is to make it clear upfront that you are prepared to be more aggressive, competitive and outrageous than they are. Other customers may tip more than Baxter at the bar of the Majestic Hotel where he holds his annual court but nobody tips more visibly or demands more service. The waiters here actually like Baxter; they can identify with his chutzpah much more than with the smarmy ingratiations of the Americans who are intimidated by Cannes and actually try to be nice to the waiters. Baxter thinks in terms of parables, and the other day he was telling one. One year here he introduced a young actress to the son of the board chairman of Philip Morris. 'For three days,' Billy explained, 'this girl followed this kid around like she's handcuffed to him. Then suddenly she disappears. She finds out his father runs Philip Morris. She thought he ran William Morris. William Morris is the show business agency. Being head of Philip Morris is about a hundred times a bigger deal – but not here. Here, they all wanna be famous.'"
3.
"A fake paparazzi, lots of films, funny stories, and I walk the red carpet": A vivid report from the Cannes 2009 penned by Raven Evans as a younger student.

"I went an hour and ten minutes early to wait in line to try to see the Quentin Tarantino movie, 'Inglourious Basterds.' I brought my iPod and some Sudoku puzzles, but ended up talking with the people around me in line. A kind South African lady let me in on the best way to get premiere invites, and I met one of the directors of the Jakarta Film Festival. With an hour of waiting to go, I was more than 10 people from the front of the line. I learned that people don't like when their Tarantino is jeopardized. After 30 minutes into waiting, neither did I. At 45 minutes of waiting, I needed to see this movie. It was an exclusive directors cut with 28 minutes. of footage that wouldn't be released to the public until the movie's DVD release! After an hour of waiting, getting into this screening became of life or death importance. I was entertained by 'Inglourious Basterds.' Some parts were signature Tarantino with a few overly bloody scenes and the unexpected music, but I was into the story and really liked the ending. During the two and a half hours of the movie, I never checked the time, or thought, "this could be over anytime," which is impressive considering my attention span."
4.
"Buzz on 'Witch' sweeps Cannes": Roger Ebert reports on the game-changing film, "The Blair Witch Project" at Cannes 1999.

"The movie consists entirely of what purports to be the actual footage of the doomed documentary. Sanchez and Myrich obtained a Hi-8 camcorder and a lightweight 16mm film camera, gave them to three actors and sent them off into the woods. Literally. Until I talked with them here, I didn't realize how cleverly the film's footage was devised. I imagined a traditional shoot, in which the crew followed the actors through the woods, clicking off shots from the script. Not at all. 'We tried to stage the experience so they were having it while they were shooting it,' Sanchez told me. 'For example, we showed our actress a house and told her this was where she lived, this was her room, blah-blah. We told her to be ready to leave home at a given time. On schedule, the other two actors arrived. They all started filming everything. They went to a restaurant for breakfast. Some of the customers and waitresses were planted by us, but they didn't know which ones. Then we told the actress to make some notes for her little speech explaining the mission to these two guys she had recruited as her crew.'"
5.
"A devil's advocate for 'Antichrist'": Roger Ebert writes an in-depth essay on how Lars von Trier's controversial selection at Cannes 2009 took hold of his imagination.

"I cannot dismiss this film. It is a real film. It will remain in my mind. Von Trier has reached me and shaken me. It is up to me to decide what that means. I think the film has something to do with religious feeling. It is obvious to anyone who saw 'Breaking the Waves' that von Trier's sense of spirituality is intense, and that he can envision the supernatural as literally present in the world. His reference is Catholicism. Raised by a communist mother and a socialist father in a restrictive environment, he was told as an adult that his father was not his natural parent, and renounced that man's Judaism to convert, at the age of 30, to the Catholic church. It was at about the same age that von Trier founded the Dogma movement, with its monkish asceticism."
Image of the Day
At Cannes 2013, Ben Kenigsberg reports on the late Roger Ebert's legacy being honored with a panel at the American Pavilion and a "500 Thumbs Up" salute on the beach.
Video of the Day
This video dispatch from Cannes 2014 contains exclusive footage from the festival's premiere of Steve James' documentary, "Life Itself," about Roger Ebert.
]]>



tag:www.rogerebert.com,2005:BlogPost/64767cbbb8b50d3c2f2adc8a
2023-06-01T08:10:14-05:00 2023-06-01T08:10:58-05:00


Scout Tafoya


<![CDATA[
The great Helmut Berger has left us. He was the beautiful face of a cinema of death and decay, the impossible beauty of the European cinema of the '70s. His proper debut was split between a legendary drag performance for his partner Luchino Visconti's "The Damned," a haunting study of a Germany moving headlong into fascism, and suitably, the same year's "Dorian Gray," directed by Massimo Dallamano. That was how he presented himself. Like a man who would never age, though he would play characters with twisted hearts causing them to age three times their lifespan, growing crooked and debased.
Berger worked for everyone from the high-brow likes of Joseph Losey and Vittorio De Sica to the tawdry likes of Umberto Lenzi and Jesus Franco. He finally ended his career in a valedictory capacity, as the screen's regal gremlin king in the stupendous "Saint Lauren" by Bertrand Bonello and Albert Serra's impish "Liberté."
Here's a celebration of "Ludwig," a 1973 film directed by Luchino Visconti, the cinema's great aristocratic aesthete. It's his most soul-bearing love letter to the late Helmut Berger, and a look at what happens when you search heedlessly for the most splendid things in life and let everything else fall to ruin.
To watch more of Scout Tafoya's video essays from his series The Unloved, click here.

]]>



tag:www.rogerebert.com,2005:Review/6471023b306fcc75bf614625
2023-06-01T08:10:00-05:00 2023-06-01T08:10:58-05:00


Monica Castillo


<![CDATA[
When do you know a relationship is real? Is it when you exchange glances that last a little too long so you can stare into each other's eyes? Is it when you can't stop talking to each other? Is it when you two do something together that feels more special than usual? Or is it when domesticity has set in, and you're lying next to your partner discussing dinner plans? In Celine Song's brilliant "Past Lives," each subtle brush with affection is a spark that could—and sometimes does—lead to something more. The film explores the tender feelings of relationships at various stages, from budding playground crushes to adulthood's alleged certainty. It's the kind of nuanced movie that allows for self-reflection as well as entertainment, following two characters who illustrate how relationships—both fully realized and not—influence our lives.
As a child in South Korea, Na Young (Seung Ah Moon) crushes on another boy in her class, Hae Sung (Seung Min Yim). Their relationship is just starting when her parents decide to move to Canada. The two childhood friends drift apart as their lives move on in different countries. Twelve years later, Na Young—now Nora (Greta Lee)—is an aspiring playwright in New York City. Hae Sung (Teo Yoo) is an engineering student back in Seoul who never stopped thinking about his childhood sweetheart. The pair reconnect over Facebook, and soon, their lives revolve around regular Skype calls, time differences be damned. However, with no sign that either one of them is willing to upend their early careers, the stream of video calls stop. Nora and Hae Sung's lives continue over another 12 years before they reconnect again. Hae Sung finally visits New York and brings up all the feelings they thought they had left behind.
Song's feature debut is a masterclass in storytelling. A playwright before jumping into film, her focus is visually and narratively on Nora and Hae Sung, making the world around them seem to dreamily melt around them when they're in each other's company. There is a special connection between them, even if it never had the chance to take root physically. Every longing stare, late-night video call, unsent email, or excited smile details the trajectory of their relationship. The characters' ample dialogue in Song's script moves the audience not with dramatic overtures but with realistic conversations that reveal vulnerable emotions.
Tenderly framed by cinematographer Shabier Kirchner, "Past Lives" gives us careful close-ups of Nora's face and Hae Sung's expressive reactions as vividly as any line of dialogue. During their long-delayed reunion, the pair move seamlessly from basking in the glow of magic hour on Brooklyn's waterfront to sunny trips on the ferry to street-lit walks in the East Village. It's a playful comparison to the movie's earlier setting in Seoul, where, as children, Hae Sung and Na Young took hilly routes home and play among modern sculptures in a park. No matter where they meet, the camera creates a sense of their connection, of the feeling that nothing else around them matters as much as this moment.
While it is first and foremost a love story, "Past Lives" ventures beyond romantic yearning and burning questions. For Song, it's also the chance to express feelings about the immigrant experience. Before leaving her home country, Nora's mom justifies the couple's choice to move the family abroad: "If you leave something behind, you gain something, too." It's a sentiment echoed through Nora's life as her experiences lead her to a career in New York City and married life with a kindhearted writer named Arthur (John Magaro). But it's a departure from the world she once knew as a child, and she confesses that she rarely even speaks Korean these days. When filling in her husband on meeting her girlhood crush, Nora confesses, "I feel so not Korean when I'm with him," bringing up what sounds like insecurity about her own relationship with her culture.
Song makes Nora and Hae Sung's mutual background an integral part of "Past Lives," like a secondary connection beyond their personal interests. He represents the life not lived because she moved away—that something left behind for something else to be gained. Their shared language is something her American husband can't keep up with, functionally giving them a private conversation even when he's at a bar with them. But sharing something doesn't mean they share the same feelings, as seen in the movie's running motif of In-Yun, the encounters in past lives that can influence your connections in the present. It's something Nora laughs off with Arthur during their first meeting at a writers' retreat but that Hae Sung takes seriously when reflecting on his long-delayed visit to New York. They are, as the movie literally depicts, on two different paths. If at heart, they're still the kids who first locked eyes with each other.
With much of the film focused on Nora and Hae Sung, Lee and Yoo step up to the challenge with a lived-in sense of ease and grace. Their characters' excitement to talk to one another is natural; their meandering conversations feel real. How Lee and Yoo look at each other creates the impression of a long backstory without so much as uttering a word. Their faces show their characters' restrained emotions just under the surface of a polite smile, but just one heavy sigh is enough to break the tears out to mourn the love that was never meant to be, the life that was never theirs, and a childhood that grows more distant with the years.
That mix of nostalgia, love, and remorse makes "Past Lives" so effective and lovely. The film carries echoes of other movies like Wong Kar-wai's "In the Mood for Love," Richard Linklater's "Before Sunrise," and David Lean's "The Passionate Friends," but "Past Lives" so confidently belongs to Song—the way she envelopes the settings around her characters, how carefully she constructs their relationship over the years, and how quickly she returns that excited feeling to their conversations after years of silence. It takes a romantic view of the if-thens of what could have been, enjoying them like sandcastles washed away by time. We can delight in the memories of our past lives while acknowledging the loss of childhood things left behind, roads never taken, and relationships that were never meant for us.
In theaters Friday, June 2nd.
]]>



tag:www.rogerebert.com,2005:BlogPost/64781116b8b50d3c2e2ad8a0
2023-06-01T07:35:46-05:00 2023-06-01T07:35:56-05:00


Chaz Ebert


<![CDATA[
RogerEbert.com publisher Chaz Ebert's seventh video dispatch from the 2023 Cannes Film Festival, made with Scott Dummler of Mint Media Works, features the annual critics roundtable in which Ben Kenigsberg, Jason Gorber, Lisa Nesselson and Isaac Feldberg discuss highlights from this year's festival. You can view their full conversation in the video embedded below.
]]>



tag:www.rogerebert.com,2005:BlogPost/64776f14b8b50d59aa2ad46a
2023-05-31T12:52:54-05:00 2023-05-31T12:53:48-05:00


Robert Daniels


<![CDATA[
This end of June marks the beginning of the 57th edition of the Karlovy Vary International Film Festival (KVIFF), which will run from June 30 thru July 8. Based in the Czech Republic, Karlovy Vary is among Europe's most storied festivals ripe to quench cinephiles fascinated by the world and, more specifically, Eastern European cinema.
This year's Crystal Globe Competition will feature nine world and two international premiere works from Pascal Plante, Stephan Komandarev, Tinatin Kajrishvili, Babak Jalali (his film "Fremont," playing at KVIFF, was a particular favorite of mine out of Sundance), and many others. Producer Dora Bouchoucha ("Red Satin" and "Buried Secrets"), actress Patricia Clarkson ("Pieces of April," "Six Feet Under," "Sharp Objects"), Senior Programmer and Director of Strategic Initiatives at the Sundance Film Festival John Nein, director Olmo Omerzu ('Winter Flies"), and actor Barry Ward ("Jimmy's Hall") will serve as the competition's jury.
The Proxima Competition, in its second year of existence, will present ten world and two international premieres, nine of which are fictional features alongside two documentaries from filmmakers like Swiss auteur Thomas Imbach, Poland's Olga Chajdas, Cyprus-born Kyros Papavassiliou, French filmmaker Émilie Brisavoine and Romanian documentarist Alexandru Solomon, etc. NRC critic and Rotterdam International Film Festival curator Dana Linssen, producer Marija Razgutė ("Slow" and "Runner"), director Šimon Šafránek ("King Skate"), author, curator, and head of Berlinale Forum Barbara Wurm, and CEO of Radiance Meng Xie will serve on the Proxima jury.
Eight films will fill the Special Screening section, which includes Jean-Gabriel Périot's "Facing Darkness" (he will be present to introduce the film) and Marija Kavtaradze's "Slow." Kavtaradze's aching romance, "Slow," was a Sundance highlight that tells the story of a sensual dancer who falls for an asexual sign language interpreter.
"It has been an incredible adventure for the programming team to get acquainted with this year's state of the arthouse cinema via almost two thousand submissions. We are proud of the selection and simply cannot wait to share it with the audience," says Karel Och, KVIFF's artistic director.
As previously announced, the festival plans to award New Zealand-born, Academy Award-winning actor Russell Crowe its prestigious Crystal Globe for Outstanding Artistic Contribution to World Cinema. A performance by Crowe's band is also planned, along with a special screening of Peter Weir's historical epic "Master and Commander: The Far Side of the World." The legendary Czech actress Daniela Kolářová will join Crowe and also receive the KVIFF President's Award.
The festival will also center on a celebration of contemporary Iranian cinema, featuring Nader Saeivar's "No End," Faeze Azizkhani's "The Locust," Danesh Eqbashav's "Zapata," and Negin Ahmad's "Dream's Gate." There will also be a look back at the work of revered Japanese filmmaker Yasuzo Masumura ("The Blue Sky Maiden," "A Wife's Confession," "All Mixed Up," "Blind Beast," etc.).
For the full details of the festival's competition titles, visit the official site of KVIFF.
]]>



tag:www.rogerebert.com,2005:BlogPost/64774d76306fcc75bf6146a8
2023-05-31T09:39:00-05:00 2023-05-31T09:56:23-05:00


Isaac Feldberg


<![CDATA[
Molly Manning Walker's confident, vivid, and emotionally charged feature debut "How to Have Sex" emerged as an early word-of-mouth breakout at Cannes even before it won a top prize from the festival's Un Certain Regard section. Following three 16-year-old best friends on a post-exam group holiday to Crete, the film—which was acquired by MUBI out of its Cannes premiere—is a corrective to the raucous sex comedies more often associated with spring break on screen, instead delivering a sensitive and sobering exploration of the sexual anxieties underlying what has become a rite of passage for many teenagers in the United Kingdom.
Fishbowl drinks, foam parties, and hordes of drunken revelers await those vacationing in European party hotspots such as the Cretan resort town of Malia, which exists away from Greece's ancient ruins and vibrant culture while giving normally sensible teenagers the chance to strip down, drink up, and let loose. Arriving in their poolside hotel suite with sunshine, spirits, and sex in mind, Taz (Mia McKenna-Bruce), Skye (Lara Peake), and Em (Enva Lewis) all agree they're ready for the "best holiday ever," bantering and cheering one another on as they try out their skimpiest outfits and pre-game with tequila. Amid all the booze-fueled bacchanalia, they'll aim to avoid thinking about their soon-to-be-announced GCSE results; only studious Em is of the opinion she'll be heading off to college in the fall, while Taz and Skye believe their futures are less certain.
For Taz (Mia McKenna-Bruce), the most ebullient and least experienced of the three, partying in Malia feels like an ideal opportunity to lose her virginity, a mission her friends loudly support. Once the girls meet a slightly older set of holidaymakers in the room next door, including cheerfully clueless Badger (Shaun Thomas) and his two friends Paddy (Sam Bottomley) and Paige (Laura Ambler), the groups end up hitting the pools, bars, and clubs together. As Taz forms a connection with one of the boys, people start to pair off.
But even as Manning Walker and her director of photography Nicolas Canniccioni immerse the audience in Malia's frenzied hedonism, glimmering sweat, and pulsating, bass-heavy Day-Glo clubscapes, the mood here is one of quiet foreboding and uneasy dissociation. Much like last year's "Aftersun," another feature debut set at a European holiday resort, "How to Have Sex" is awash in intimate silences, and its characters' sense of uncertainty lend the film a haunting emotional undertow that only deepens its queasily visceral impact.
The low-simmering tensions between Taz and her friends, the barbed jokes Skye makes at her expense and the competitive jealousy that builds between them as they vie for male attention, leaves Taz feeling unhappy and isolated. Once Taz loses her virginity, a disorienting experience that causes her to withdraw even further, her confusion casts a dreadful pall over the film's second half, the atmosphere's low neon buzz fading as the sun rises and the hangovers hit. Navigating the bramble of thorny emotions she feels over this long-awaited moment, Taz struggles to discuss with her friends what has transpired, to articulate it herself. But as the week progresses, her sense of devastation proves difficult to shake, and her friends begin to question why she seems so uncharacteristically subdued.
McKenna-Bruce is magnetic in what should be a star-making performance; conveying the innocence concealed by Taz's party-hard attitude and capturing the lingering pain of her internal processing. And Manning Walker is careful never to judge her characters or resort to reductive didacticism, instead approaching "How to Have Sex" as an unflinching but empathetic look at consent, violation, and the surrounding gray areas of sexual experience. This is fresh, passionate, and remarkably assured filmmaking, made with ample energy and even more exhilarating clarity of vision.
Also acquired by MUBI for worldwide release shortly following its premiere in the Un Certain Regard lineup at Cannes was Rodrigo Moreno's "Los Delincuentes," a consistently playful, gradually beguiling existential dramedy on the multitudinous subject of work and freedom from a well-regarded figure of the New Argentine Cinema movement.
Paced across a leisurely winding 189 minutes, the film opens as a heist film of sorts, with long-time bank employee Morán (Daniel Eliás) stealing a rather modest sum from his workplace—by his calculations, it's twice the amount he would make if he continued at the bank until retirement age—with a plan to turn himself in and retrieve the money once released from prison. Morán is tired of working, he tells coworker Román (Esteban Bigliardi) while dragging him into the scheme. In exchange for concealing the cash from investigators, he says, Román can have half of it, and they can both retire comfortably. As for the prison sentence, that's easy math—he'd rather sit behind bars for three and a half years than work for 25 more.
From this premise, inspired by the 1949 crime drama "Hardly a Criminal," Moreno bounces between his two characters, moving back and forth in time as well, with Morán learning the ins and outs of life behind bars as Román sweats his way through interrogations from his suspicious boss (Germán De Silva). That De Silva also plays another prisoner who extorts money from Morán, and that the layout of the cell block resembles the floor of the bank where Román still works, are only two of the ways Moreno finds to rhyme the experiences of his anagrammatically named protagonists.
Once Román heads to the Cordoba countryside in order to hide the stolen money, he meets free-spirited sisters Norma (Margarita Molfino) and Morna (Cecilia Rainero) and begins a romance with the former, despite the fact of a pre-existing relationship back in Buenos Aires. Moreno's love of anagrams extends even further, to a filmmaker Ramón (Javier Zoro) who's friendly with both women and enlists them for his projects. Especially beautiful to look at in this mid-section, as the characters leave behind the drab confinements of city establishments for bucolic, wide-open natural landscapes, "Los Delincuentes" sets cinematographers Inés Duacastella and Alejo Maglio free to play; their lighting's abundance of contrasts illustrates the mundanity of labor and the liberating potential of leaving it behind for parts unknown,
As "Los Delincuentes" meanders along, it becomes looser as a narrative, more surreally unbound and digressive, with the sensorial pleasure of all Moreno's formal innovations—including creative use of split-screen, screen wipes, and crossfades, all of which draw unexpected, intriguing connections between his characters—dovetailing nicely with the film's thematic preoccupations. Less necessary are the film's inevitable professions of cinephilia through the character of Ramón, who holds the story hostage for too long a stretch to deliver a predictable "cinema is dead" diatribe. Still, in a metatextual echo of his characters' journeys, and in solidarity with their desire for freedom, Moreno has made an odd, endearing dramedy that plays by no one's rules but its own, toying with the narrative traditions of various genres before eschewing each of them in turn to traverse a more quixotically offbeat and open-ended path.
Also premiered in Un Certain Regard this year was "The New Boy," from Australian director Warwick Thornton. A Kaytetye filmmaker, Thornton has been telling stories about Australia's Indigenous people and the country's vast interior since his debut feature "Samson and Delilah," an elliptical love story that won the Camera d'Or at Cannes in 2009. It took eight years for Thornton to craft his follow-up, the near-Biblically-scaled Western "Sweet Country," as ferocious and soul-scorching an exploration of frontier justice and its colonial underpinnings as any film on the subject I've seen.
Thornton's latest, "The New Boy," is set in 1940s Australia, away from the battlefields of World War II, and opens with one of the transfixing tableaux that makes his cinema singular: that of a lone Aboriginal child (Aswan Reid), escaping through the Outback, as a horseback police patrol looms in the periphery. Captured and taken to a remote monastery orphanage, where devout Sister Eileen (Cate Blanchett) works to protect her charges from darkness and instruct them in the traditions of her faith, the child at first struggles to fit in.
Gradually, it becomes clear he grasps more than he lets on. That the boy possesses mysterious powers, connected to his Indigenous spiritual life, also complicates Sister Eileen's efforts to subjugate him with a Christian education. Once a wooden crucifix arrives at the monastery, sent from Europe to ensure its safety during the war, a spiritual struggle intensifies between the child, who is both confounded and compelled by the Christ figure, and Sister Eileen, who interprets his fixation as an affront even as she seeks to deliver the boy's soul. As the child performs a series of miracles, revealing his powers to the monastery, Sister Eileen is forced to question her own faith.
Inspired by Thornton's own upbringing, during which he was sent away to a remote boarding school run by Spanish monks and challenged by a vision of Christianity at odds with his own Aboriginal spirituality, "The New Boy" feels like an extremely personal project; at the premiere screening, Thornton said that it had been 18 years in the making. One wonders, as the project marinated, at what point the increasingly anguished and erratic behavior of Blanchett's nun became central to the story. Though the actress, who also produced "The New Boy" with her husband Andew Upton, was likely instrumental in making the film, Sister Eileen's vacillating attitudes toward the boy become difficult to parse and ultimately distract from the script's focus on his intrinsic connection to Aboriginal spiritual traditions. Thornton's underlying critique of Christianity's colonial impulses, its inability to coexist alongside other spiritualities without dominating them, is borne out by the film's conclusion, but not before the film is sequestered by Blanchett's star power, which shifts the focus from Reid's excellently gestural performance without offering a comparably resonant counterbalance.
Despite its flaws, "The New Boy" is elevated by some of Thornton's most atmospheric work behind the camera to date. Serving again as his own cinematographer, as he has done since "Samson and Delilah," Thornton conjures the otherworldly power of Australia's scorched red earth and its strange, vivid sunsets; in this story of spiritual resilience and communion with the divine, the landscape is an abiding, almighty presence, golden grasses undulating beneath deep blue skies. The neo-classical score, by Nick Cave and Warren Ellis, is another standout, as attuned to the Outback's stunning, near-hallucinatory grandeur as Thornton's own lyrically gorgeous compositions.
]]>



tag:www.rogerebert.com,2005:BlogPost/64775a6a306fcc75bf6146a9
2023-05-31T09:32:00-05:00 2023-05-31T09:51:54-05:00


Jason Gorber


<![CDATA[
It may be symptomatic of a very busy festival schedule over the last several months, the aging process wreaking havoc on my stamina, or the fact that there were far more films over three hours this year than usual, but I'm more exhausted after Cannes 2023 than I have ever been at its conclusion. Cinema is nourishing, of course, as are the amazing opportunities for Southern French food grabbed between bouts of writing, queuing for press conferences, or fighting with technologically suspect ticketing systems. But it's fair to say that by the end of this year's festival I am spent.
There were a few truly wonderful films, several that were middling at best, and others truly egregious. To get these duds out of the way, so you can avoid them when planning your own post-fest screening schedule, I present you with the likes of "Black Flies," Jean-Stéphane Sauvaire's psychological drama about ambulance drivers navigating the infernal hellscape of New York City. I genuinely do not know what ransom information Sean Penn has on both Cannes and Berlin (where his appalling Ukraine doc debuted). Still, for aesthetic reasons alone, we need to take a break from his inclusion at these festivals for a while until he remembers how to pick projects and do more than scowl and murmur. Nanni Moretti's "A Brighter Tomorrow" didn't manage to live up to the optimism of its title. "The Old Oak," Ken Loach's latest beatification of the working poor, feels more sanctimonious than sublime. Karim Aïnouz's "Firebrand" may not be as terrible as these others, but its silly, historically offensive finale and overwrought presentation made the Johnny Depp-starring opener "Jeanne Du Barry" feel almost subtle. I didn't respond to "Banel and Adema," but it's more middling than anything, uncertain how to stick the landing but certainly affable enough along the way.
Many will cherish Hirokazu Kore-eda's "Monster," and while I enjoyed its strong performances, I couldn't help but think that last year's "Close" was a far more engaging and complex take on this sort of story of adolescent affection. Todd Haynes' "May December" will have plenty of fans, but while I again enjoyed the performances very much, the film's tone never settled on being dark and serious or outright camp. Wes Anderson's "Asteroid City" may not live up to his best work, but I find myself reflecting on its narratively straightforward yet emotionally dense tale days later. Jason Schwartzman playing Kubrick may be his most sophisticated role yet, and Scarlett Johansson's performance may be her most perfectly realized. Unsurprisingly the visuals are a sumptuous feast, and I cannot wait to revisit it to pick out some of the details inevitably missed the first go 'round.
Speaking of feasts, no film was more brazenly erotic than the culinary pornography cooked up in Tran Anh Hung's beautiful film "The Pot-Au-Feu." Vegan friends squirmed during the screening, but those of us with less restricted palates salivated as dish after dish was served. This is practically a documentary about gourmandizing and the exquisite excesses of the French palate, and the truly memorable movie meal is enhanced by absolutely delicious turns from Juliette Binoche and Benoît Magimel and a standout performance by newcomer Bonnie Chagneau-Ravoire.
There were two "quiet" films that I was suspicious of at first but soon quickly fell in love with. First, there's Aki Kaurismäki's "Fallen Leaves," which seriously needs to be retitled to "Autumn Leaves" to better align with the song that plays on the soundtrack. In a mere 81 minutes, we're treated to a sublime, darkly comical love story set against geopolitical strife, where the quotidian trivialities of employment and emotional fulfillment are no less a concern than larger, more distant anxieties. It's constructed like a beautiful poem, excising all extraneous material to form a beautifully honed work that's perhaps the most concisely realized of the auteur's exceptional output.
Then there's Wim Wenders' near-perfect "Perfect Days," a film unafraid to overtly namecheck the song that helps provide the title. In this story of a Tokyo toilet cleaner, the taciturn take by Best Actor winner Kōji Yakusho is simply a joy to experience. I was reminded of "Patterson" by Jim Jarmusch, another wonderful, poetic film that draws the audience in ways both subtle and profound to characters that at first seem entirely distant. The fact that Wenders had two spectacular films this year (I already spoke about the exceptional documentary "Anselm") proves that his talent shows no sign of waning.
Finally, two films are linked by one actress, making Sandra Hüller the undisputed Queen of the 2023 festival. Palme d'Or winner "Anatomy of a Fall" is absolutely terrific, and I can hardly begrudge the jury for their choice. While director Justine Triet's acceptance speech championing local concerns about retirement age changes in France made the closing event feel much more provincial, that takes nothing away from her film's magnificence. A character piece and courtroom drama exploring the French system's unique intricacies, it's a masterclass in rhetoric and revelation, anchored entirely by Hüller's tonally perfect take.
Then there's Jonathan Glazer's "The Zone of Interest," an outright masterpiece and a welcome return from a filmmaker that takes far too long between projects. It may have taken the second prize, but my gut says it's the work from this year's selection that will have the greatest reach and longest-lasting legacy. It will be impossible for most audiences to experience the film in the way I managed to--I knew nothing about its subject matter, making its subsequent revelations that much more unsettling and powerful. Hüller is magnificent as the head of a hellacious household, as is Christian Friedel in a retching, wretched role for the ages, a chilling, bureaucratic cog helping churn the mechanism of murder.
Towards the end of the festival, I got to attend the Quentin Tarantino event as part of the Quinzaine Director's Fortnight Section. The loquacious filmmaker spoke at length about his affection for the festival (he won Palme here with "Pulp Fiction"), but his showing up on this sidebar was a long-awaited event. He brought a beat-to-hell 35mm print of John Flynn's 1977 revenge thriller "Rolling Thunder" to wow the crowd with its faded color, missing frames, scratched imagery, and incoherent audio mix. Technical presentation aside, the film itself is a bit of a mess, but the experience of seeing it in that setting was quite exceptional. While QT's arguments for the film's "beautiful fascism" fell flat, it was a nice injection of grindhouse mayhem into a festival too often littered with self-serious nonsense.
This wasn't the only murder and mayhem story I caught. The iconic Japanese director Takeshi Kitano arrived with "Kubi," which surely holds a record for the most people beheaded in a single film. The storyline is convoluted to the point of parody, with major characters continuing to be introduced right until the final act with supremely unhelpful title cards, as if there's any way to make sense of the mayhem without an Excel sheet and a degree in ancient Shogun and Samurai court machinations at the ready. It's a mess, to be sure, but as always, there are moments of poetic brilliance and sly comedy that help define Kitano's unique voice.
Along the way, I managed to make Scorsese laugh, Harrison Ford cry, and nerded out about music with Wes Anderson and Alexandre Desplat. I saw friends I hadn't seen in years and made new ones that I look forward to sharing experiences in darkened rooms with for years to come.
Cannes remains incredibly important to me, and I never take for granted the privilege of attending what was always more a dream than a destination I ever thought I'd be able to actually visit. The fact that my words and thoughts live on a site named after a film critic hero who first helped bring attention to the events on the Croisette is never lost on me, and it remains one of the thrills of my personal and professional life to be able to play a very small part in following Roger's legacy. I know he would have loved and loathed so much of what played here, and not a day went by without wishing he was still around. Ten years after his passing, I feel his presence every time I deign to write a review, and I do not expect that that feeling will ever go away.
Thanks to the incredible generosity and tenacity of Chaz, who continues to champion Roger's mission, the fantastic video team of Scott and Bob, and the sympathetic editors back in Chicago, I managed to survive Cannes 2023. It was the best of films, it was the worst of films, but above all, it was a return to a fully-stocked festival free from any overt attendance restrictions, a place, a community that I now consider truly a home for two weeks every year.
À l'année prochaine.
]]>



tag:www.rogerebert.com,2005:Review/647101dcb8b50d3c2f2adb14
2023-05-31T08:00:00-05:00 2023-05-31T08:00:30-05:00


Brian Tallerico


<![CDATA[
My esteemed colleague Christy Lemire opened her review of "Spider-Man: Into the Spider-Verse" with a quote from her nine-year-old asking if he could see it again, so I think there's some synergy in quoting my nine-year-old to open this one: "That might be the best movie I've ever seen."
"Spider-Man: Across the Spider-Verse" explodes onto screens this week, building on the foundation of the masterful "Spider-Man: Into the Spider-Verse" with stunning animation, unforgettable characters, and complex themes. The first note I took after seeing it was "so much movie." Like the work of a young artist who refuses to be restrained by the borders of the frame, "Across the Spider-Verse" is loaded with incredible imagery and fascinating ideas. It is a smart, thrilling piece of work that reminded me of other great part twos like "The Dark Knight" and "The Empire Strikes Back." Like those films, it leaves viewers anxiously anticipating the next chapter (which will come in March 2024), and it earns its cliffhangers by grounding them in a story of young people refusing to submit to a concept of what a hero's arc needs to be.
"Across the Spider-Verse" opens just over a year after the action of the first movie. Gwen Stacy (Hailee Steinfeld) is back in her universe, trying to keep her identity secret from her father, George (Shea Whigham). When an alternate version of the villainous Vulture (Jorma Taccone) drops into her reality, the bad guy ends up trailed by the intense Spider-Man 2099 (Oscar Isaac) and confident Spider-Woman (Issa Rae). They reveal to Gwen that they're part of a secret Spider-Society that has been cleaning up inter-universe messes, capturing villains who end up in the wrong one and sending them home again. When Gwen's identity is blown with her dad, she joins the Spider-Crew, correcting the errors of multi-verse.
Of course, fans will remember that Miles Morales (Shameik Moore) is essentially one of those errors. The Peter Parker of his universe died trying to save him, and the spider that bit Miles was never supposed to be there. But it was. So now what? This story's backbone is about pushing back against determinism and moving forward with what's in front of you. Superhero culture has used multiverse stories to expand on the concept of potential, but this film (and I hope these themes really land in its sequel) suggests that it's way more important to hold onto the reality in your hands than imagine all of the other ones that might have been. It's about controlling your own fate more than giving into a scripted narrative of heroism. More than most superhero movies, it's about empowerment instead of destiny. And that's powerful stuff.
Back to Miles. He's in his version of Brooklyn, trying to balance being a good student with being a friendly neighborhood Spider-Man. He's considering telling his mother, Rio (Luna Lauren Vélez), and father, Jefferson (Brian Tyree Henry), the truth, but worries what it could do to their relationship if he does. One day, an odd duck that Miles thinks is just a "villain of the week" pops up in the form of The Spot (Jason Schwartzman). Formerly known as Dr. Jonathan Ohnn, the once-Alchemax-employee was forever altered by the first movie's action, able to control time and space through a series of portals. At first, it's kind of cute how he tries to steal an ATM with a portal, but The Spot ends up being significantly more dangerous as his powers grow, opening passages that can destroy worlds.
Naturally, the emergence of The Spot gets the attention of the Spider-Society, which sends Gwen and company back into the life of Miles Morales. The first sequence of their reunion is an absolute marvel as the two characters swoop and swing through the city, flirting their way through the sky. It culminates with a series of shots high above the city as the pair sits upside down, the skyline inverted behind them. It's a quiet sequence in a movie that's often very loud and a reminder of the film's stunning visual confidence, just as striking in its calm as its noise.
If the first film interrogated who gets to be a hero, the second film takes that further to ask how heroism is defined. Why does every hero's arc have to be the same? Why does so much superhero mythology lean into the idea that it is only through tragedy that heroism can be born? In an era when superhero movies have taken over the culture, writers Phil Lord, Christopher Miller, & David Callahan use animation's freedom to unpack the structure of a world they know and love. It's a script that earns every one of its 140 minutes, almost overwhelming in its abundance of ideas. (To be fair, my youngest also turned to me at one point and said, "I have no idea what's going on." He said it with a smile.)
Of course, most will remember its imagery more than its ideas. Directors Joaquim Dos Santos, Kemp Powers, and Justin K. Thompson build on the first movie's aesthetics with one of the most strikingly conceived and executed animated films ever made. From the very beginning, the animators are using their form to do things that would never be possible in the MCU, and the art of "Across the Spider-Verse" feels even more self-assured than the first film. It's not just that every action sequence would cost half a billion dollars in a live-action film. It's that this freedom has been employed artistically and cohesively instead of just extravagantly. Even in a film where characters defy time and space with every leap and dive, the choreography of the action is easier to follow than some of the Hollywood blockbusters released already this season. There's a true craftsmanship to the action that's breathtaking, especially in a late sequence when Miles breaks free from what the canon says he has to be.
It helps greatly that the entire cast here brings their vocal A-game. There are so many celebrity voices here—including a number of cameos only villains would spoil—but I want to give some praise to Shameik Moore, who finds the perfect register for the odd intersection of youth, manhood, and heroism in which Miles finds himself. It's a vocal performance with just the right blend of curiosity, vulnerability, and growing confidence. Steinfeld, Henry, Rae, Jake Johnson, Schwartzman, Velez, Daniel Kaluuya, Isaac—there's no weak link. Everyone was clearly inspired by the creative potential of this script.
Mediocre sequels repeat what came before, knowing that fans will return for more of the same. Great sequels build on what came before, enriching themes and setting the table for what's to come. I wish that we weren't seemingly in a blockbuster era of non-endings, but I feel like "Across the Spider-Verse" earns its open conclusion. It's not just a way to guarantee that ticket buyers return. It's not a threat to finish an incomplete story. It's a promise to continue one that's already so rewarding.
In theaters tomorrow, June 1st.
]]>



tag:www.rogerebert.com,2005:BlogPost/6476641db8b50d3c302ad64f
2023-05-31T07:55:55-05:00 2023-05-31T07:56:30-05:00


Marya E. Gates


<![CDATA[
One of the buzziest titles at this year's Sundance Film Festival was A24's "Past Lives," the directorial debut of playwright Celine Song. Attending a packed screening with a row of Chicago-based critics was a highlight of the festival for me. There wasn't a dry eye in the house when Song's tender, melancholic, and unusually wise romance faded to black.
The film stars Teo Yoo as Hae Sung and Greta Lee as Nora, childhood sweethearts who reconnect in New York City 24 years after Nora's family emigrated from South Korea to Canada, and John Magaro as Arthur, Nora's husband.
At the Chicago Critics Film Festival in May, I saw the film for a second time and was further struck by its rich, emotional texture. At a Q&A after the screening, Song described how her life inspired the film's plot. Like Nora, her family emigrated to Canada when she was 12 years old, and she further emigrated a second time from Canada to New York to attend Columbia University's M.F.A. program in playwriting. One night she found herself having drinks with her childhood friend and her husband, prompting her to ponder how these two men from such different parts of the world would likely have never met if not for her.
From this kernel, Song crafted the heartfelt story at the center of her film, using the Korean concept of In-Yun to explore the various interpersonal relationships of her characters over more than two decades. Greta Lee, perhaps best known for her work on streaming shows like "Russian Doll" and "The Morning Show," gives the performance of her career as Nora, finding in the character delicate layers of rich, often conflicting emotions. Teo Yoo and John Magaro are equally compelling scene partners, crafting such a complex connection to Nora—and with each other—that it would be juvenile to call the situation merely a love triangle.
RogerEbert.com spoke to Celine Song at the Chicago Critics Film Festival about casting this highly personal film, the concept of In-Yun, striking the right emotional tone with its score, finding inspiration in "My Dinner With Andre," and how she filmed that incredible penultimate bar scene.
I saw this originally out of Sundance, and I loved it. I went because I saw Greta Lee was in the cast, and I was so impressed with her in a film I saw at SXSW a few years ago called "Fits and Starts." Since this is such a personal story, the casting of that central character must have been so important. Did you cast Greta first and then build around her?
I think you'd have to start with Nora because she is at the heart of it. She is the burning center of the film, or she's the core of the film. So, of course, it has to be built from her in that way. Finding the right person for it is personal, but it wasn't about finding somebody who is going to come off one way. It was so much more about the depth of her work and the depth of who she is as a person and if she's a soul match to the character. It was really about the character and if she felt like the character more than anything else. That was what the casting process was.
Did you do chemistry tests with her and the two adult male leads?
No. I think that in casting, one needs to have an eye out. But the chemistry test I did was with the two children, their child characters. They don't have a lot of lines, and they had a lot of work that they had to do, so the chemistry has to be instant. It has to be so easily communicated to buy it all the way through. It has to spark the whole film in that way. So to me, it felt important to do a chemistry test with them. That was really, really wonderful and really, really helpful.
What I made the children do, which I know is really hard to do in an audition, even with adults, was to ask them to do ad-lib because they didn't have enough lines to do enough acting for me. I had the little girl first, Seung Ah Moon, then I was trying to find the right boy for her. Then the boy who was in the movie now, Seung Min Yim, came in. I asked him to ad-lib asking the actress who played the little Nora to stay in Korea because he doesn't like that she's leaving and he wants her to stay. He did such a beautiful piece of ad-lib and such a convincing piece of acting that it made the little girl who was playing little Nora cry. She was like, "Do I have to leave? Do I have to leave Korea?" And I was like, "You don't have to. You don't have to leave." [laughs].
Obviously, the idea of In-Yun is central to the story. I'd never heard of it before this film. You mentioned in last night's Q&A that the film was inspired by a meeting between your actual childhood sweetheart and your husband. Was In-Yun part of your concept from that initial spark? When did that come into the process of the script writing?
I think the concept of In-Yun is a pretty commonplace phrase in Korea. So it's true what Nora says when she says it's like just something Koreans say as a pick-up line. It's just a way to feel connected to someone, even if you just met them or you just met them a couple times. They will say, "Oh, hey, we must be In-Yun." That's something people say. So to me, it is the first thought that sort of popped into my mind of like, oh, that's what this is.
But this In-Yun is so different with these two guys, too. Because I think it's easy to think about In-Yun as something you can only have in a special destiny with somebody else. That, to me, is a very Western way of thinking. In the Eastern way of thinking, so much about In-Yun is something that comes to you. Destiny is something that comes to you, and you can't really stop it. It is something that you have to learn to accept.
What was going on with In-Yun to me? I was like, well, the person who gives you a cup of water when you're thirsty, even that person is In-Yun, even if you never see that person again. But also your mother is In-Yun as well. I would say that your mother and yourself are much, much deeper In-Yun, probably one of the deepest In-Yuns you can have. But it doesn't mean that the person who brought you a cup of water when you needed it is not In-Yun. So it is something that I think can be a part of everybody's life and the way we think about everyone.
I think part of that is that it makes every relationship we have, or even every encounter we have, have weight and have meaning and depth. Because if you can think of the person who gave you a cup of water as a person that you have In-Yun with, yeah, then I think that the way you think about that person, the way you treat that person, and the way you care for that person changes. I think In-Yun can be a pretty amazing thing that one can have.
That would be a much better way to go about exactly thinking about the world.
I want you to just live your life and just be able to say I think that person is In-Yun. We are really special In-Yun.
I love that. I noticed on this second watch—I hadn't really thought about this—but the three sections are each 12 years apart. Is there a specific significance to the 12 years?
I felt like it needed to be a really significant length of time, and I think 12 years can really change a person. You can really seem like a new person in 12 years. But of course, just like all things, it's always contradictory. Even after 12 years, you can seem like the same person. To me, 12 years just felt like a hefty number of years for a person's life, so both the change and the sameness can feel significant.
I love the sound design in this, specifically the audio of the Skype calls. The whole audience seemed to viscerally react to the first Skype beeps. It's such a nostalgic form of communication. Zoom and FaceTime have replaced it now, but Skype just feels like a very specific time. I'd love to know how you recreated that and whether you intentionally meant it to feel nostalgic.
Something that I think is really true is that Nora and Hae Sung may have made more of an effort to stay in touch and see where the relationship goes if the connection at the time that they were doing this was as good as it is now. Yeah. Exactly. So it was important for the film to depict the time in technology when it was a lot shittier. There was an extra layer of it being more frustrating or a little bit harder to connect through it. To me, that is where the timing or the times interact with how we end up connecting with people.
It was really important to me that the actors are able to experience the frustration and also to act with each other. So I wanted to do it practically. There were not that many references of being able to do a whole breakup scene or something like that over Skype. So we built two sets that were connected by a cable, and we put a throttle on it. Oh, and I was controlling the throttle like a DJ. So that I could control how bad the connection was or when it freezes. I could cue when Skype freezes. And the actors also interacted with it live, because they're also having to experience the frustration of it. And that, of course, becomes a part of the work that they're doing as characters.
I had a friend around that time who has since married her husband, but that first year they were apart—she was in France, he was in California—they Skyped the whole time. And the way you depict it in this film felt really true. I think that the experience of trying to stay connected is so difficult, and you captured it beautifully.
It's so frustrating, but in the beginning, he was just happy to be talking to them. So it's like magic. It's like sci-fi. You're like, "It's amazing that I can even see this person and talk to this person. It's so magical."
But then I think over time, it starts to erode. And that's what that sequence is. It's about how the initial feeling only actually makes the longing grow. Then you start to realize that what you get from Skype is not enough. And suddenly, Skype just feels so frustrating. But first, you're so amazed by the possibility of Skype because you're like, "I can't believe we're connected." And what you expect from there is to be able to be satisfied by Skype. The thing that I kept saying when we were making that part of the film was that it has to be shitty. It can't be perfect. It can't be good. It has to be frustrating.
Speaking of the emotions of the film, I absolutely loved the score. The first time I watched it, I was like, "Is this Grizzly Bear?" and then the credits came on, I was like, "I knew it!" How did they get involved?
I was always looking for the right people for the story. Every part of it has to be like working on chemistry reads, it has to be about the chemistry of their voice and the way that their music is connected to the story. They seemed perfect, and I know more than ever, now, that they are the perfect people for this film. I don't know how old you are, but I feel like we kind of grew up in that time where we're just like, "Woo! Grizzly Bear!"
I've seen them live like seven times. I remember when they were a $12 ticket band, and now it's like $75. I'm like, what happened? But also, congratulations to them. Their style is so delicate, and the film is so delicate. The emotions are delicate but also huge, a bit like their album Yellow House, a big album about small things.
And also it's not sentimental. It is always a push to keep the music from verging into begging the audience to feel something. Because the thing is, the movie will get the audience to feel something if there's room for them to feel something on their own. I think the music should always be in support of that and never be begging or pleading for it. The Grizzly Bear guys, Christopher Bear and Daniel Rossen, just know in their bones how to walk that line because it's part of their work.
But it was also so fun. I just loved being able to say to them, we just need a little more emotion. Part of the austerity or part of the intelligence, or part of the joy of their work is not leaning into the easy emotions. So you can ask them, "I need this to feel a little bit more emotional." What they would bring me would not be overly sentimental. I kept asking for something, and then they would know how to find it in the perfect way.
Yeah. That was amazing.
I think it's perfect for the film, you know, just bottled it.
Hae Sung's friends in Korea are so fun. They feel so natural. I'd love to know how you brought them in. They're always so supportive.
I auditioned them from Korea over Zoom. They're amazing character actors from Korea. I also asked them to do a bit of ad-lib as well, because they also don't have as much material. They hadn't read the script yet, but I told them the story. I told them, as Hae Sung, the story of Hae Sung, of what I, as Hae Sung, intended to do. And then I asked them to give their friend advice on whether he should go and see Nora in New York. A lot of them had amazing answers for what they thought their friends should do. But almost all of the guys in Korea said that he should go and see her and see what happens. So, again, it's a little bit of a chemistry thing, too. It's about the connection that they can have with Hae Sung and with each other.
The New York bar location is so central to the story. You open with it and not quite close with it. It's such a warm, amber-colored space. I'd love to know what you were looking for and how you found that particular space.
It's called Holiday Cocktail Lounge, which is in the East Village. We were looking for something that is sort of ineffable, which has the feel of a local bar. The kind of place that you would take your friend to when they're in town, but also had to feel really special because a really special conversation has to happen. It is about a thing that you cannot quite describe, which is kind of like the relationship that Hae Sung and Nora have with each other. It has to feel totally mundane, like the kind of bar you would just walk into, but, like the movie, it has to feel special, and it has to contain the whole movie too. That is something that you only know by seeing it.
At the Q&A last night, you mentioned "My Dinner With Andre," which is such an amazing film. Did you have the cast watch it while you were prepping those conversations?
I asked all my department heads to watch "My Dinner With Andre," and I think I did recommend the actors watch it as well. What I love about that movie, it's so funny because you don't really think that you're watching anything that is so dramatic or so significant until you're deep in it. Then you're suddenly like, "How do we get here? How did this conversation get here?"
That's the feeling that I needed that whole conversation to be because it's the penultimate scene. So it also had to be put together that way. I put the scene together that way so that when we cut into each shot, it has to feel a little bit like you're sort of slipping into it without even fully realizing it.
I love that when they're talking about Arthur, you don't cut to him, but when they're talking about something other than Arthur, you cut to him listening.
I think you have to feel connected to that character, to Arthur, because him being at that bar is what makes this movie unique. That Nora and Hae Sung are able to have this conversation because of and in spite of him sitting there. I knew that there needed to be a moment where he's a bit of a touchstone, where we can just see the moment in it, and that was the right moment for it. The conversation is being spoken in Korean, a language that Arthur does not understand, so there is fear, and there is vulnerability. There's the insecurity that is going through his head.
We were shooting on film, so we put in six minutes worth of a fresh mag, loaded it in, and we pointed it at John Magaro's face. I said, "I'm going to spend this entire mag on your face while you listen to what these two people are talking about in Korean without you understanding it. And you should give me in that six minutes every version of listening that you can think of. What we found was that if he looked too angry, he seemed insecure, and if he looked too chill, he seemed like he didn't give a shit about her. So the key was striking the exact right balance between the two.
Are there any female directors who either inspired your work or inspire you in general?
I really have been such a big fan of Kelly Reichardt. I fell in love with John Magaro in "First Cow," and "Showing Up" is also super great, so I would really want to shout out her name.
"Past Lives" will be available in theaters on June 2nd.
]]>



tag:www.rogerebert.com,2005:BlogPost/6474ac9c306fcc75c06149fd
2023-05-30T08:55:00-05:00 2023-05-30T12:18:19-05:00


Nick Allen


<![CDATA[
Tim Robinson's style of CAPS LOCK COMEDY has done it again in creating a series of jokes that will make people laugh hard, scratch their heads, and/or incorporate them into inside jokes they share with their friends. (If you love "I Think You Should Leave," that's part of its love language.) The main headline is that if you enjoyed the previous two seasons, you must treat yourself to more of the crescendoing absurdity that Robinson and co-creator Zach Kanin have very much made their own. If you didn't like the show, THEN WHAT ARE YOU EVEN DOING HERE?
Back in 2019, Robinson appeared on "Late Night with Seth Meyers," in which the host summed up the show aptly: "People who will not admit they are wrong." "I Think You Should Leave," with six more 20-minute episodes, has hardly changed from such a set-up. And yet these skits prove that it blissfully still works. With Robinson sometimes acting as the most intense or most demure in the room, the series hasn't engineered a sense of humor but a comedy structure applied to different social hells—work presentations, parties, appearing on game shows, etc. It would feel too familiar or repetitive if the sketches didn't always break free to the strangest character obsessions a writer's room could concoct (like with a series-topping bit that shows you what "The Driving Crooner" is).
It's strange but fitting how this plays out—there are so many disappointing comedy sequels and follow-ups, but "I Think You Should Leave" is continuous in its oddly brilliant ways. Each skit develops like a new chapter from a still-being-written saga about a world where rage is an epidemic, passing on from one character to another in the show. Take here, in which Will Forte plays a snooty man who crawls under a parked van in a driveway and gets his long ponytail stuck. He proceeds to throw a fit, which gets another man with a ponytail across the street all on his high horse. That's not even the 10th funniest skit of this season, which makes all apparent how on-the-nose it would be if Robinson were to make a joke about someone who thinks the sky is falling.
Like past installments, this series brings in other people who get a chance to be as intense as Robinson can be. If there's any straining in this season, it's in people who aren't as practiced in this degree of screeching chaos. So while we see the likes of Tim Meadows, Tim Heidecker, and Fred Armisen, they look slightly out of their league, and the bits aren't as strong. Returning heavyweight weirdos like Patti Harrison (with a bizarrely muted sketch) and Conner O'Malley are more immediately on Robinson's wavelength.
There are so many laugh-out-loud jokes here, so many jarring plot turns, and so many ordinary situations that become creatively perverted. I don't want to spoil them for you, but more instill confidence about embracing what you've loved before, like any time Robinson sells a product, hunched over in front of a green screen. The former "SNL" writer and "Detroiters" star has a golden throat that's covered in rust, paired with an intense gaze that he can immediately put fire and fear behind. One of the best things that Netflix has ever done is give Robinson his own creative kingdom, all so that he and his peers can rip down the tapestries and scream at the walls.
All of season three was screened for review. "I Think You Should Leave" is now playing on Netflix.
]]>